Attention world, Galentine's Day is fast approaching! You may have already marked the occasion on your calendar or you may be scratching your chin in confusion at this turn of phrase. For those that have not already embraced this beautiful land mermaid of a holiday let me give you a brief history. 
A little show known as "Parks and Recreation" let it be known to all us mere mortals that Galentine's Day would forever and always be February 13th; otherwise known as the day before Valentine's Day. Traditionally, the second week of February has been devoted to celebrating romantic love but the glory of Leslie Knope's creation is that it celebrates the awesomeness of female friendships. Our gal pals are with us all year long. They listen to us complain, they shoulder our tears, they dance it out with us, and they make us laugh harder than is probably healthy. Why haven't we already been celebrating them!? 
This year you can celebrate with us! The Erlanger Branch Library is having a Galentine's Day celebration February 7th at 7:00 PM. We'll be making our BFFs Galentine's Day cards, watching the two hilarious Galentine Day episodes of Parks and Rec as well as stuffing our faces with waffles at our waffle bar.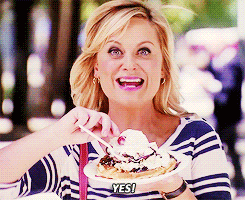 After you hang out with us at Erlanger you can wander over to the Durr Branch on the actual Galentine's Day, February 13th, for a full day of galentine shenanigans. Starting at 11:00 AM with everyone's favorite meal: brunch with (you guessed it) waffles! Movies will be playing through the afternoon with an enviable array of crafting choices until 4:30 PM when you'll be able to paint ceramic dessert plates, followed by an appetizer aficionado's dream cooking class at 6:30 PM. Did anyone say heart shaped chips and salsa? The crafts and cooking class require no registration, but hurry over because they're offered while supplies last. 
Come check out what Galentine's Day is all about, you beautiful sunflowers!
Written by: Janice Shepherd, the adult programming librarian at the Erlanger Bunch and a huge fan of Parks and Recreation, palling around with friends and eating waffles.