Have you heard about or visited our STREAM center? If you have, you may think of it as the library's makerspace, but STREAM is so much more than just a makerspace. STREAM stands for science, technology, reading, engineering, art, and mathematics. In the STREAM center, we want all ages to feel comfortable learning new things and setting their imagination free. While most of the machines are 18+ the STREAM center has activities for the kids too.
Things that we have for kids include Dash and Dot robots, OZO Bots, Strawbee Inventor Kit, Legos, and our new STREAM Cart. The STREAM cart is a cart where we challenge kids to think outside of the box. Each week the challenge board will be updated with a new weekly challenge to be completed by using your imagination. The cart will be filled with art supplies, recyclables, and everything you need to complete the challenge. Don't like the challenge, that's ok, the cart contains extra challenge cards for you to choose from.
Think you can complete the weekly challenge? Come on in. Don't forget to take a picture of your completed project and share it on the library's Facebook page. Want some more STREAM fun at home? Check out these ten books.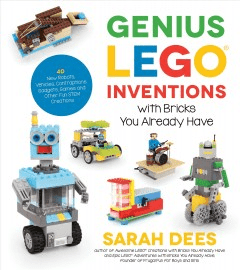 Written by: KMontgomery