The Friends of the Kenton County Public Library is a volunteer organization designed to provide community support for the library system.
2023 Book Sales:
Erlanger: March 12 -18
Durr: May 14-20
Erlanger: July 16-22
Durr: September 16-23
Durr: December 3-9
Contact the Friends of the Library at 859-962-4329 or by email.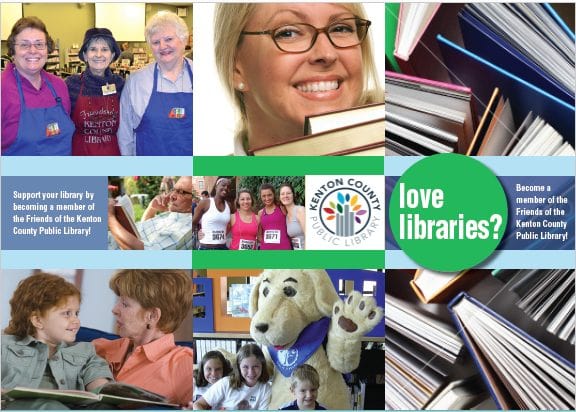 Learn more about Library Friends Groups around Kentucky at the Friends of Kentucky Libraries website.
Materials Donations
The Friends of the Kenton County Library are happy to receive donations of books and other audio visual materials. Your donations help support Library services. At this time the Friends are not accepting magazine donations. Please contact the Circulation Department at your local branch before you drop off materials. Space is sometimes limited at the Erlanger and Covington locations. Direct phone numbers are noted below.  The Friends are always happy to take your donations at the W.E. Durr Library in Independence.
Independence, 1992 Walton-Nicholson Road, Independence 859-962-4030
Erlanger Branch, 401 Kenton Lands Road, Erlanger, KY 41018 859-962-4000
Covington, 502 Scott Blvd. Covington, KY 41011 859-962-4084