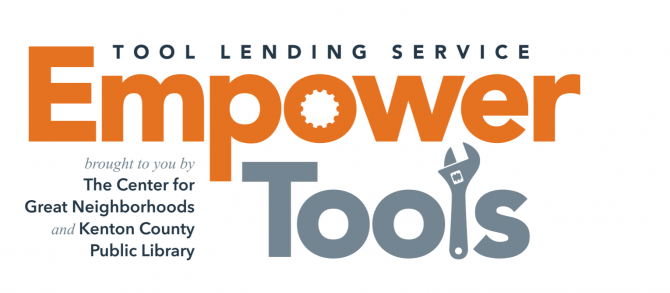 Hours: Monday 4-7; Wednesday 4-7; and Friday 1-6
321 W. MLK Blvd
Covington Kentucky 41011
To ensure the most people can benefit from this program all borrowers must have a current Kenton County Public Library Card.  If you don't have one, stop by your nearest library with a valid ID and a piece of current mail to pick one up. If you do have one, remember to check that it is current and all information is up to date.
NEW REQUIREMENTS:
*Borrowers will need to email us at CovingtonEmpowerTools@gmail.com with the following information:
Your name
Your Kenton County Public Library Card number
Your street address
Your phone number
Your email.
You will be contacted by Empower Tools and Library staff to verify the information.  Once verified you will be notified that your Library Card can be used to borrow Empower Tools.  We will contact you within five (5) business days of your email.
FAQ
 

No, there are no holds or reserves for Empower Tools. Our collection is very small and we are unable to hold tools for patrons. Because all of our tools are in the catalog, they look like they can be put on hold, but they cannot, nor can they be renewed.

Empower Tools at an offsite (not at the library branch) location, at 321 W. MLK Blvd (also known as 12th St) inside the Hellmann Creative Center. We are open on Monday and Wednesday from 4 pm to 7 pm, and Friday from 1 pm to 6 pm.

You can check out up to 3 items for 7 days at a time. After 7 days, our tools do accrue fines at 5 dollars a day, per tool. We encourage you to bring them back on time, either to the Empower Tools location, or you can also return items to the Covington Branch library.

 

A staff member will contact you within a few days to verify your information. After your information has been verified you may checkout a tool.  

 

 
Additional Information:
We are excited to be partnering in a tool lending effort along with the Center for Great Neighborhoods and J Grey Holding LLC.
Read about our Borrower's Agreement and Tool Use Policy.
KCPL card holders (18+) with full access accounts in good standing and with verified Empower Tools information are eligible to borrow from Empower Tools.
Up to 3 items may be borrowed at a time and all items are loaned for 7 days.
Prior to borrowing, users must present valid ID and complete a liability waiver.*
Items unable to be returned during open shop hours can be returned to the Covington Branch Library.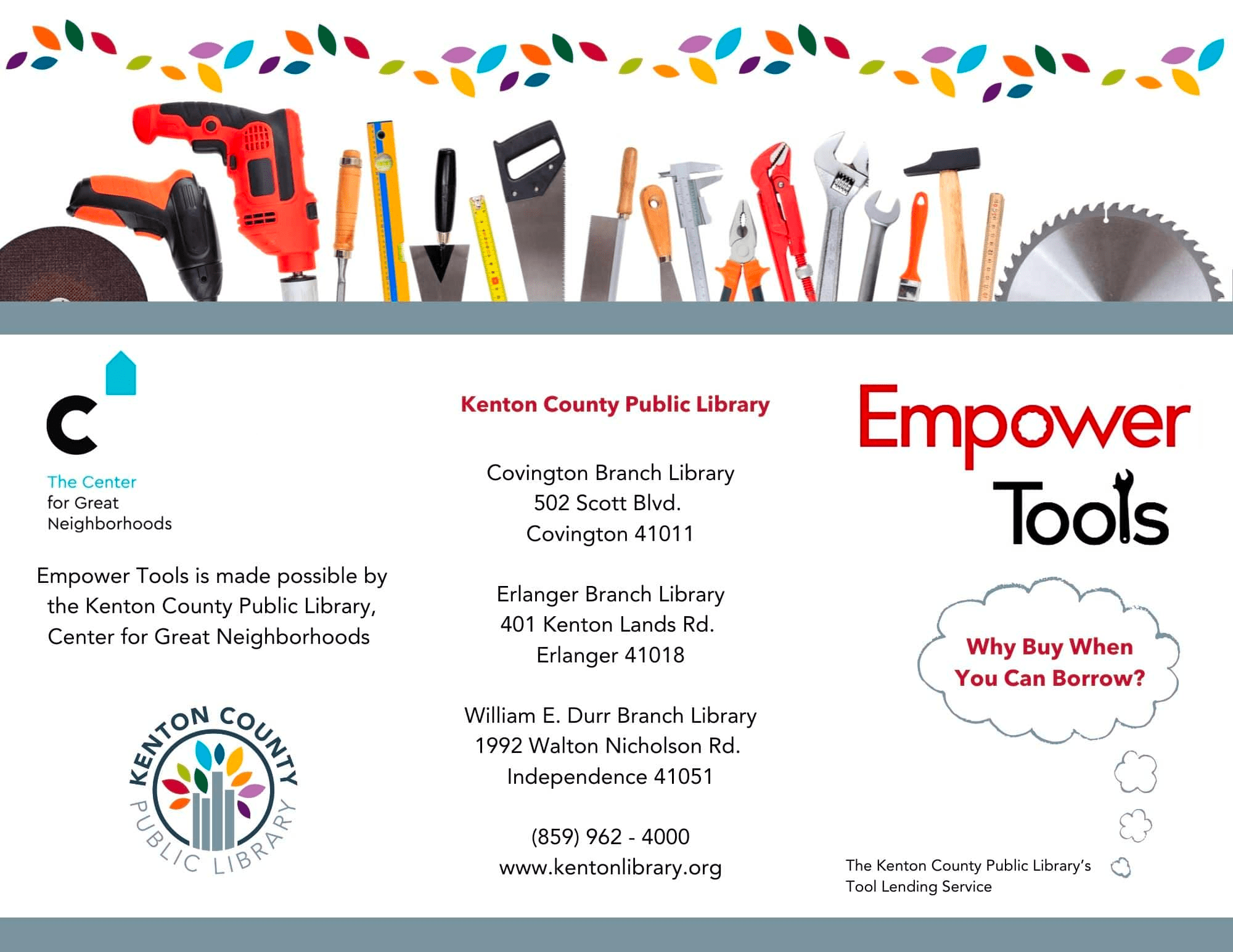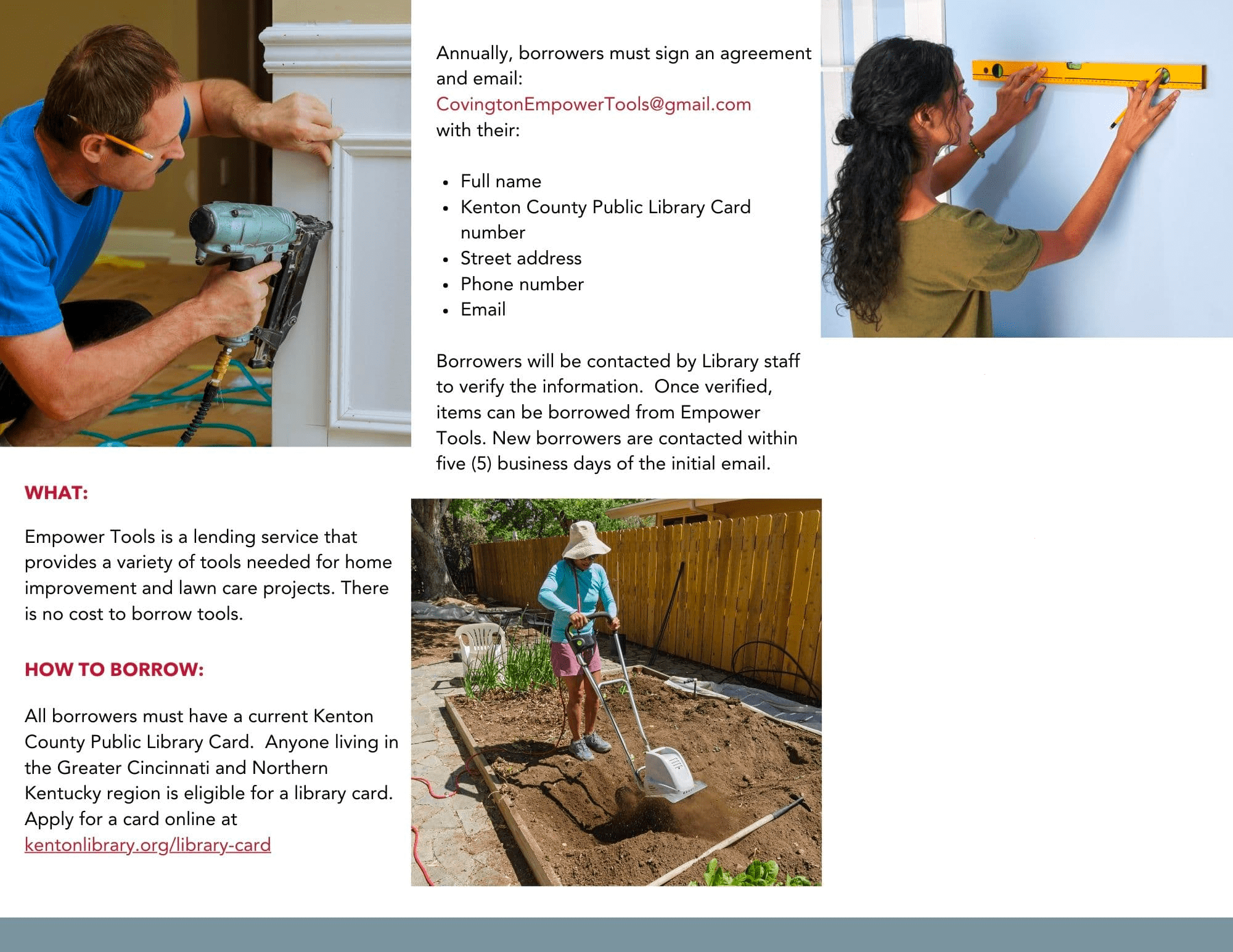 Contact Empower Tools
Ask Empower Tools a question or make a comment.