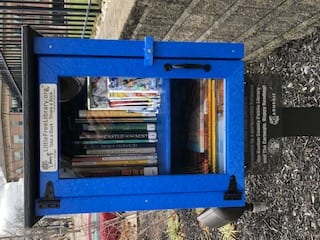 Visit one of our Little Free Libraries, co-sponsored by KCPL and several community partners. Each Little Free Library is located in an easily-accessible public location. Books for kids, young adults, and adults are included; along with a variety of book formats and occasionally other media like magazines. The intention is for the Little Free Libraries to provide access to books in more locations, and to provide options when visiting the library branches may not be possible. The materials provided by KCPL are items that have been removed from the circulating collection, items that have been donated, and in some cases, new purchases. KCPL staff will be maintaining and re-stocking the Little Free Libraries as needed.
The Little Free Libraries were installed in late summer and fall, 2020, and initially stocked with a combination of new materials purchased from I'm Your Neighbor Books via a grant from Save the Children and materials from the Friends of the Library. It is our goal to offer a wide variety of materials, and for the community to also use the Little Free Libraries as a way to exchange personal books they no longer need. Little Free Libraries maintained by KCPL can be found at Barb Cook Park and The Carnegie in Covington; at Middleton-Mills Park in Taylor Mill; and at Rainbow Park and Spring Valley Park in Erlanger. These sites are in partnership with the City of Covington, The Carnegie, Kenton County Parks and Recreation, and the City of Erlanger, respectively.
Our newest location is at the Covington Transit Center, provided in partnership with the Transit Authority of Northern Kentucky.
Little Free Library Locations
Rainbow Park
3007-a Rainbow Terrace
Erlanger, KY 41018
Temporarily removed due to park construction.