Are you trying to figure out what to get someone for the holidays? You can create great, customized gifts at the library. 
Garment Printer - Bring a shirt, tote bag, hoodie or other fabric item and customize it with any image you choose. The cost of using the Garment Printer is usually less than $5 per item. 
3-D Printers - Customized model railroads, tabletop gaming and cookie cutters are another great gift. We have multiple 3-D printers for these types of projects. At $0.15 per mL, most pieces can be printed for less than $5.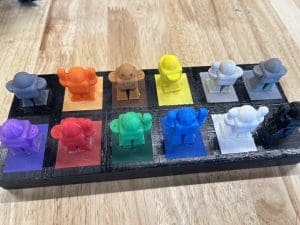 Laser Engravers - You can customize anything from cutting boards to glassware. Patrons will need to bring supplies to engrave. The library only charges for the protective tape, which is $0.10 per foot, making engraving one of the cheapest processes. The photos below are of items made on the engravers.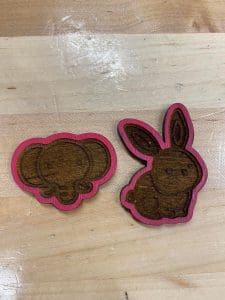 Embroidery - Customize towels, aprons, sweatshirts, stockings and more with the embroidery machines. Patrons provide the item; we provide the thread and machine. We have a wide assortment of colors, and most embroidery work can be completed for less than $0.25. 
Sublimation Printer - Personalize a plate, mug, canvas pouch, parking sign, Santa bag, candle holder and more using the heat press and sublimation printer at the Covington Branch. Each item is less than $10.  Items for the sublimation printer are available at the Covington Makerspace. The items in the photos below were made using the sublimation printer.
Banners & Posters – Use our large poster printers to make a banner or poster of your favorite band, team or artwork. The cost is $3-$6 per linear foot, depending on the material chosen.
Patrons should bring their customized designs on a flash drive. Need help with Canva, Publisher or Photoshop? Sign up for a one-on-one tech training class (https://www.kentonlibrary.org/stream/technology-training/) or check our events calendar (kentonlibrary.org/events) for a class.
No need to be intimidated, staff will train you how to use the machines. Appointments are required in the STREAM Center and Makerspace. Visit kentonlibrary.org/stream or call 859.962.4000 for more information.
Make homemade gifts, decor and more.
By Gina Stegner, public relations and social media coordinator.