In collaboration with the City of Covington, the Kenton County Public Library Foundation has developed a community art installation that brings literacy and artistic expression together. Local artists have painted their interpretation of books on a fiberglass bench in the shape of an open book. In May 2023, the Book Benches will be placed throughout Covington for people to sit and read.  
A call to artists resulted in 38 submissions. A list of possible books selected by the library was given to the artists. Each artist was asked to send a rough sketch of the book they would paint. Those submissions were narrowed down and selected by library staff who then worked with area artists on the final selection. The following are the artists who will be working on the 2023 Book Bench Project: 


Phoenix Brumm-Jost & Lora Jost
Book featured: The Very Hungry Caterpillar by Eric Carle
 Phoenix Brumm-Jost is a Walnut Hills High School senior who will attend the Art Academy of Cincinnati, where they will get a BFA in illustration. Since 2019, Phoenix has shown art publicly seven times, four being in 2022. Phoenix has been honored by the Cincinnati Art Museum for their 10 by 10 award and had art shown at the Art Academy of Cincinnati and Artworks.
"The Kenton County Library was the very first library I ever went to, and The Very Hungry Caterpillar very well could've been the first book I ever read. This bench would allow me to make it a full circle. It would be an enormous honor to have kids sit with their loved ones and read their first book, or crowd around and happily cry out when they found one of the foods. They could even discover a love of art, or caterpillars. It could bring unity to their community, in a time that humanity really needs that. As I am turning 18 in August, and saying good-bye to being a child, having this bench shown would be like gifting my happy childhood memories to a new generation of readers. I hope they will get as much out of it as I did, and more. "
Campbell County High School - Honor Art Students
Book featured: A Snowy Day by Ezra Jack Keats
Leslie Hagen, an art teacher at Campbell County High School, sponsors a chapter of the National Art Honor Society. Her students' goal throughout the year is to give back to the community through art service projects. The students in the chapter are creative, driven and have taken art courses all four years of high school. They are all pursuing higher education and appreciate the value of literacy. The students love the idea of encouraging people to read and use the resources of the Kenton County Public Library.
Student artists: Gracelynn Evans, Alexis Reis, Morgan Ushemasimba, Peyton Daffron, Sadie Roush, Molly Hart, Jillian Roether, Gena Waggoner, Lead: Leslie Hagen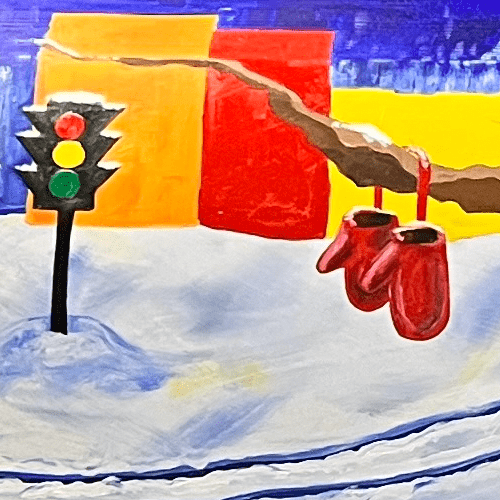 Claire Long
Book featured: Charlotte's Web by E. B. White
Claire is a local artist who has adored reading and visiting the library since childhood.   As part of a creative family, she has always been energized by art and is thrilled to share that joy through painting or inspiring others.  In her work, Claire loves capturing the beauty of nature and accentuating the drama between light and shadow.  Additionally, she enjoys creating items for several local non-profits including multiple projects for Gorman Heritage Farm (Evendale, OH), painting several Cincinnati Zoo/SaveLocalWater's rainbarrels and illustrating a poem/coloring book for Vitality Cincinnati.  She is happy to have had this opportunity to use art to promote literacy and the adventures waiting in our public libraries. Claire creates at Brazee Studios in Oakley and is an active member of the Woman's Art Club of Cincinnati and the Brush & Palette Painters.
"I have chosen Charlotte's Web as it is a timeless story that needs to be told and retold. The characters (and thereby the readers) learn important lessons such as Fern speaking up to save the life of the little piglet, she changed the outcome and learned responsibility. Wilbur later moved to her uncle's farm where he experienced fear, loss, loneliness and faced his own mortality. Children experience many of these struggles but through this piglet's eyes, they can understand that they are not alone and can hopefully talk about it. Though shunned by most of the farm animals, Wilbur made friends with a spider, Charlotte. The two had nothing in common but their friendship taught the other animals' tolerance and the value of working together towards a common good."
Terri Schatzman
Book featured: The Poisonwood Bible by Barbara Kingsolver
Terri's work is displayed at the Cincinnati Zoo through the Rain Barrel Project. She started teaching at Dixie Heights High School in the fall of 1992. Terri has a BA from XU in Art Education, a MAAE from the AAC in Art Education, and National Board Certified in Art Education EAYA.
"Since I retired from the art room at Dixie Heights High School, I have been exploring ways to expand my art to share with the community while stretching my artistic skills. I read "The Poisonwood Bible" to connect with students reading it for class. I remembered the symbolism throughout the book and was captured by those images."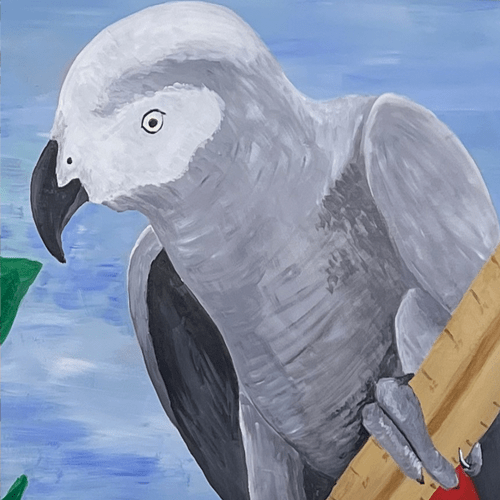 Gabrielle Siekman
Book featured: Where the Crawdads Sing by Delia Owens
selected "Where the Crawdads Sing" because of the breathtaking descriptions of nature throughout the book. I relate to the main character, Kya, who goes through life feeling like an outsider around other people, but completely comfortable and at home surrounded by nature. When Kya is 14 years old and finally learns how to read, she discovers this sentence: "There are some who can live without wild things, and some who cannot." She responds, "Oh. I wasn't aware that words could hold so much. I didn't know a sentence could be so full." Being taught how to read opened an entirely new world to her; it literally changed her life.
There is so much to this book. It is a coming-of-age story about abandonment, loneliness, self-reliance, oneness with nature, survival, understanding and forgiveness- all important lessons in life. It is easily one of my favorite books, and I'm grateful for the opportunity to illustrate some of (in my opinion) the best scenes! I hope it encourages people to get out in nature and experience the wonder of it themselves.
Gabrielle Siekman is an emerging artist based in Northern Kentucky. She has worked on several outdoor and indoor murals around the tristate, and shown work in multiple galleries in Cincinnati. With a deep love for nature, she has made work surrounding environmental issues, such as pollution and deforestation. She also makes paintings of the various beneficial insects she finds in her organic vegetable garden, where most of her summer is spent. Gabrielle attended Northern Kentucky University and earned a Bachelor of Fine Arts degree, specializing in Painting.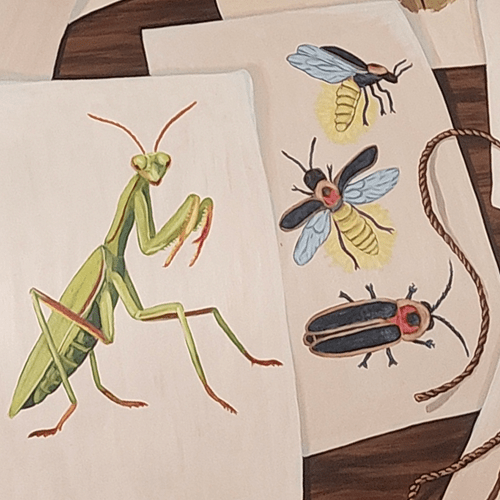 Becca Stadtlander
Book featured:  Alice's Adventures In Wonderland by Lewis Carroll
Becca Stadtlander is an illustrator and fine artist, inspired by the beauty of everyday objects, the comforts of home, and the lush colors and landscapes of far-off places.  She attended the Maryland Institute College of Art and currently lives and works in her hometown of Covington, Kentucky.  Her work is featured in children's and adult books, editorial publications, stationery, home decor products, and book covers. Bright Group International represents Becca.
Clients include Chronicle Books, Candlewick Press, Penguin Random House, Harpercollins, Houghton Mifflin Harcourt, Quarto, Walker UK, Clarion, Storey, Anthropologie, Kate Spade, Google, Red Cap Cards, American Greetings, Hallmark, Papyrus, Design House Greetings, The New York Times, The San Fransisco Chronicle, The Sunday Times, and many more...
See Becca's work at beccastadtlander.com
Support for this project provided by