West Covington
Hathaway Hall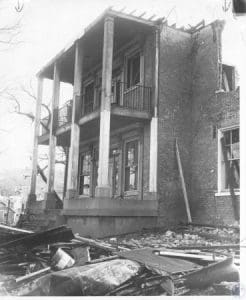 Hathaway Hall was a large home located on a hill overlooking the Ohio River. The property on which the hall was constructed was acquired by the Reverend Henry Hathaway in 1833. Soon thereafter (c. 1838) he began work building the home. The original style of the home has been lost to history. However, it is known that the building exhibited a central hall plan. Each of the large rooms in the building sported a fireplace for heating purposes. A large cherry stairwell linked the two floors.
The original owner of the hall, Reverend Henry Hathaway was a known abolitionist. Many believed his house was a station on the Underground Railroad. They point to the large underground tunnel that once linked the basement of the hall to the banks of the Ohio River.
Many have surmised that this tunnel was used as an escape route by runaway slaves. Other historians argue that these tunnels were common in many other large Northern Kentucky antebellum homes. The tunnels were constructed to haul supplies from the river into the homes. Despite the debate, many newspaper articles have appeared over the years linking the hall to the Underground Railroad.
In 1877, the Protestant Residents of West Covington began using a shed on the Hathaway property for worship services. The Union Church (later Union Methodist Episcopal) Church emerged from these meetings.
The Hathaway family lived in the hall for several generations. In 1952, Joe Spratt, a manual arts teacher at Ludlow High School, purchased Hathaway Hall. The building was in a dilapidated condition by then. Several windows had been boarded up and others had been punched through the century old walls. The interior of the structured had suffered extensive damage due to neglect. Pratt slowly began restoring the structure. However, in 1969, Spratt was approached by the Arnold Ingram Real Estate Company to sell. Spratt agreed to the offer. The Ingram Company demolished Hathaway Hall and built a large, multi-storied apartment complex for senior citizens on the site. The complex was named Hathaway Senior Citizens Apartments. The street that was constructed to provide access to the apartments was named Hathaway Court.
Kentucky Post Times-Star, March 12, 1969; Cincinnati Enquirer, November 12, 1961, p. 4f.