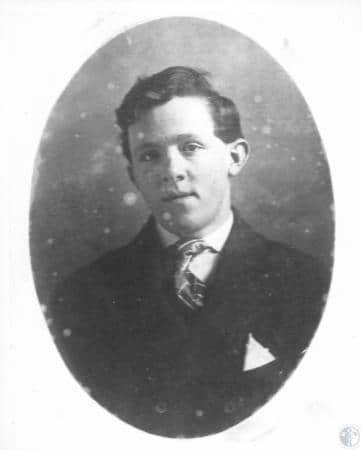 Covington native and composer of music. James Haven Lamont Gillespie was born on February 6, 1888 in Covington to William F. and Anna Reilley Gillespie. The family lived in a basement on 3rd Street between Washington and Madison Avenue. Haven attended Third District Elementary School in Covington for six years before quitting to go to work. Gillespie was a printer with the Cincinnati Enquirer and Cincinnati Times-Star. In 1910, Gillespie married Corene Parker of Covington. The couple had one child, Haven Lamont Gillespie.
The Gillespies lived at 509 Montgomery Street. The home, sometimes called the White Mansion, belonged to Corene Parker Gillespie's parents. In 1911, Gillespie began writing songs as a hobby. The hobby quickly turned into a career. By the time of his death, Gillespie had written over 1,000 original compositions. Among his works included: Violet Blue (1912), Drifting and Dreaming (1925), Breezin' Along with the Breeze (1926), I'm in Love with You Honey (1926), You Go to My Head (1937), Lucky Old Sun (1949), Old Master Painter (1949), God's Country (1950), I Love to Dream (1972). His most famous, and profitable composition was Santa Claus is Coming to Town. The song was written in 1933 in a New York Subway on the back of an envelope. Santa Claus is Coming to Town debuted on Eddie Cantor's Maxwell House Coffee Radio Show on October 27, 1933. Gillespie made over a million dollars in royalties alone on this composition. In 1950, Gillespie and his wife moved to Hollywood and later, Las Vegas. The move was not beneficial to Gillespie. The party atmosphere of the town led to Gillespie's overindulgence with alcohol. Gillespie became an alcoholic. In 1958, Corene Parker Gillespie died. Following her death, Gillespie quit drinking by joining Alcoholics Anonymous. He later married Josephine Kruempelmann. Haven Gillespie died on March 14, 1975 in Las Vegas, Nevada. In 1988, the Kentucky Historical Society approved an historical highway marker for Gillespie. The marker honors Gillespie's contribution to the music world and Covington.
Bricking, Chuck, Covington's Heritage, KCPL, pp. 25-26; Cincinnati Enquirer, November 23, 1973, December 8, 1974; Local History File, KCPL.