Mother Mary Walburg Saelinger O.S.B.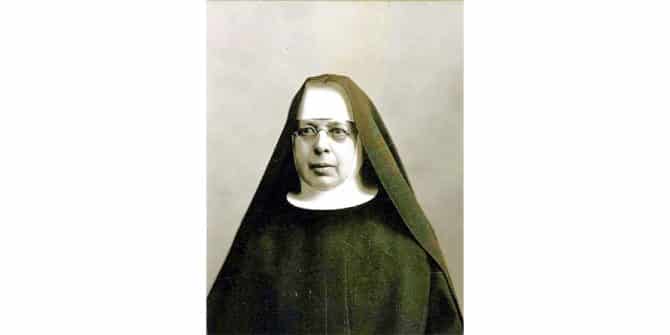 Helen Walburg was born on August 10, 1845 in Baden. At the age of three, her family immigrated to the United States, eventually settling in Covington, Kentucky. At the age of 14, Helen Saelinger entered the Benedictine Monastery of St. Walburg in Covington. She was the first postulant in the Benedictine's new Covington foundation. In 1861, Helen received the Benedictine habit. She was given the name Walburg, in honor of the monastery's patron saint. Sister Walburg took her simple vows on March 21, 1862 and her solemn vows on November 1, 1866.
Sister Walburg held the position of superior of the Benedictine's school in Paris, Kentucky from September 10, 1875 until June 6, 1877. Most of her early career, however, was spent as Mistress of Novices at St. Walburg Monastery in Covington. On August 10, 1889, Sister Walburg was appointed assistant to Mother Alexia, the founder and Superior of the Covington monastery. Following the death of Mother Alexia, Sister Walburg was elected Prioress of St. Walburg Monastery on December 14, 1891. Mother Walburg served as Prioress of the community until her death on November 28, 1928. During her tenure as prioress, the Benedictine community greatly expanded with the addition of many new young members. Also during this era, the Benedictines accepted a number of new assignments as teachers in the following schools: Holy Cross Elementary School, Covington (1890); St. Henry Elementary School in Elsmere (1899); Holy Cross High School, Covington (1905); St. Joseph School in Crescent Springs (1916); St. Benedict Commercial High School, Covington (1916); St. Anthony School in Decoursey (1918); Blessed Sacrament School in Fort Mitchell (1920); St. James School in Brooksville (1921); St. James Catechetical Center, Minerva (1921); St. Paul School in Florence (1923) and St. Therese School in Southgate (1927).
Mother Walburg was also responsible for purchasing the Villa Madonna property in present day Villa Hills. Villa Madonna Academy Day and Boarding School (1904) and Villa Madonna College (1921) were established on this property. Mother Walburg died on November 28, 1928. She had served her community as Prioress for 37 years, having been elected to that position every 3 years since 1891. Mother Walburg was 83 years of age. Mass of Christian Burial was held at St. Joseph Church in Covington. The funeral was presided over by Bishop Francis W. Howard. Initially, Mother Walburg was laid to rest at Mother of God Cemetery in Covington. When the motherhouse of the Benedictines was moved to the Villa Madonna property in Villa Hills, a cemetery was established on the grounds. Mother's body was later re-interred in this cemetery.
Paul Ryan, History of the Diocese of Covington, p. 430-431; Kentucky Post, December 1, 1928, p. 3.