Community History - Covington - Parkway Avenue Bridge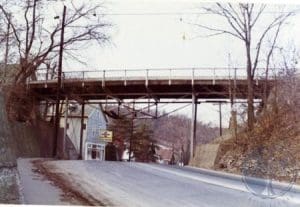 The date on construction of the first Main Street Bridge (now Parkway Avenue) cannot be determined. However, it was certainly in place at the time Highway Avenue was constructed through West Covington in the early 1890s.
By 1973, the old wooden Parkway Avenue Bridge was closed to traffic due to its weakened condition. Covington officials determined that the bridge should be replaced. In September of that year, the Lobo Wrecking Company of Covington began removing the old bridge.
Plans for the new bridge called for a pressed concrete structure supported by two concrete abutments. City officials hoped that the bridge would be completed by November 1973. Construction work, however, was slower than expected. The new bridge was not completed until May 1974. Total cost for the structure reached $85,000.
News Enterprise, February 15, 1973, p. 1, July 5, 1973, p. 1, September 6, 1973, p. 1 and May 2, 1974, p. 1.