They say a photo is worth a 1,000 words. If that's true, then the Kenton County Public Library has 100 thousand stories to tell!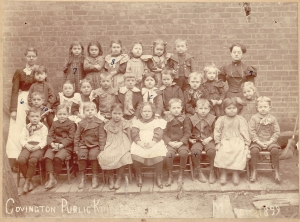 The Library's online historic photo album, Faces and Places, just added the 100,000th photo to its database. The photo, from the former Kentucky Post, is dated March 14, 1975 and features a man named Bill Penick. Why is Bill Penick's photo important? Because he, most likely inadvertently, is now forever a part of Kentucky history. This photo is just one of thousands preserved digitally for all to see, and share, online via the Faces and Places website, www.kentonlibrary.org/facesandplaces.
March 2016 marked the 10th anniversary of Faces and Places, a unique online historical photo album that highlights the people, places and events of Kentucky (and some Cincinnati).  Since its inception a decade ago, the Faces and Places website has received over 9.2 million views. There are 100,411 images, 6,508 subject headings and 2,023 comments on the photos. "Comments are important," stated Elaine Kuhn, Local History & Genealogy Services Coordinator for the Library. "They give us information that might help someone discover something new when doing research."
This online album was created when the history staff at the Kenton County Public Library began digitizing some of its resources. They were digitizing documents and family files so that genealogy researchers around the world could obtain the information they needed without having to incur the cost of travel expenses. The staff then added photos to the mix, therefore creating Faces and Places.
The popularity of the photograph collection easily lent itself to a digital format. As such, staff scanned the photos and staff and volunteers did the indexing. When the Kentucky Post, a daily newspaper, ceased publication they donated over 60,000 photographs to the Kenton County Public Library. Staff and volunteers began adding those to the database, using keywords and subject headings to make searching easier.
Faces and Places is searchable by keyword, surname, address, city, or subject. As the database became more well-known in the community, other area residents began donating photos to the library. One of the more significant collections was a local photography studio who donated over 1,000 photographs of greater Cincinnati scenes from the 1910's to the 1950's. Because of the accessibility of the photographs through the database, many have been used by local authors, in local history books, by the media, by teachers and students and by museums and local businesses.
Steven J. Rolfes has used Faces and Places for his "Images of America" books.  "The Faces and Places database has provided several wonderful photos for each of my books. A lot of the photos are not available any other place, or if they are available, the cost for using the photos is astronomical," said Rolfes. "This is a fantastic resource, and I am very thankful for it."
Located in the former Coppin's Department store, developers for the Hotel Covington used Faces and Places to remind guests of hotel's original purpose. "The Faces and Places database was an immensely helpful resource for our work in developing an authentic and true identity for Hotel Covington," stated Michelle Spelman, Brand Strategy Consultant for Hotel Covington. "Historic images of  Coppin's department store helped us to capture the essence of Coppin's role in the community. We were inspired to find ways to celebrate that heritage in the property's physical renewal and in the crafting of tailored customer experiences at Hotel Covington. Those images also helped us create a beautiful website, inspired original artwork, and printed materials that authentically tell the story of Hotel Covington and Coppin's."
With images of Riverfront Stadium, former presidents, historical homesteads and families, the most viewed photo is not one you would expect.  You can also check out the most viewed photos. 
As social media flourished, so did sharing of photos online through avenues such as Facebook. People would search their family name and see photos of their great grandparents and share. The Library's IT department created the interface to be very user friendly. It allows patrons to make comments on the photos, to post them directly to social media and to send them to others via email. Photos have appeared on Facebook and Instagram. All photos have a KCPL watermark to signify the collection belongs to the library.
The Library's Local History and Genealogy Department are continually looking for photos to add to the Faces and Placescollection. They encourage people to donate photos or film negatives to add to the collection. Those wanting to share their photos but not donate them can send in scanned digital images on CD or through email. Digital images must be scanned at 300 dpi and saved in JPEG format.
Kenton County Public Library serves 163,000 people and has invested significantly in serving the Northern Kentucky and Greater Cincinnati region. It also houses one of the largest collections of local history in Kentucky in its Covington Library, located at 502 Scott Boulevard. Call (859) 962-4070 to learn more about the Library's Local History and Genealogy Department.