Community History - Covington - Sixth Street Market House
Market houses were necessary fixtures in the lives of 19th Century Covington residents. The lack of refrigeration made food storage difficult. Residents were forced to shop for food almost on a daily basis. In 1860, the Covington City Council appointed a special committee to investigate the construction of a market house on 6th Street in Covington's growing west end. Dr. J.E. Stevenson was appointed chairman of the committee. A site on 6th Street was acquired between Main and Bakewell.
Work on construction the Sixth Street Market House began in 1861. Legend holds that Governor Lew Wallace used the completed building for his headquarters during the Civil War. Covington city records indicate payments of $25 per month from the federal government for rent.
By 1875, business at the Sixth Street Market House was booming. The market housed 16 butchers, stalls for 28 rural farmers and space for thirty area hucksters. A writer for the Ticket newspaper decaled the Sixth Street Market House "the best market house in the city."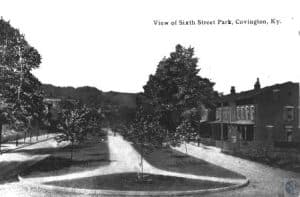 By 1900, the market house had fallen into disrepair. West end shoppers began doing business elsewhere. In 1906, the members of the newly established Covington Parks Board approached the city council for permission to take over the market house as a site for a park. City officials agreed to the plan and on May 2, 1907, the market house was razed. At this time, the strip of land between eastbound and westbound West 6th Street was turned over to the park board.
In 1974, the Sixth Street Park was named the Steinford Park, in memory of George and Rose Steinford. The Steinfords were well known in the area for collecting and repairing used toys for redistribution to the poor at Christmas.
Covington Journal, October 27, 1860, p. 3; Ticket, September 9, 1875, p. 3; Kentucky Post, March 10, 1905, p. 2, March 15, 1906, p. 2 and May 3, 1907, p. 2; Annual Message and Department Reports 1906, City of Covington, Kentucky.