Community History - Covington - Saint Luke Methodist Church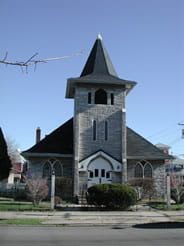 The history of Saint Luke Methodist Church can be traced back to the year 1872 when the Covington Bethel Association constructed a Sabbath School building on Greenup Street between 11th and Bush Streets. This building was dedicated on June 8. An official congregation emerged from the Bethel Association on October 4, 1874, when the Eleventh Street Methodist Episcopal Church South was established with 23 charter members. The congregation was a daughter of the Scott Street Methodist Episcopal Church South located on Scott Street between Fifth and Sixth Streets. A brick church was constructed on the south side of Eleventh Street between Madison Ave and Scott Blvd. This two-story structure was officially dedicated on March 28, 1880 by Bishop Alpheus W. Wilson of Nashville, Tennessee.
The Eleventh Street Methodist Episcopal Church South grew, and in time, the old building could no longer accommodate the congregation. In 1911, construction began on a new church at the corner of 18th and Greenup Streets. The cornerstone of the new building was set in place on October 22, 1911. The new church was ready for use in 1912. At that time, the name of the congregation was officially changed to St. Luke Methodist Episcopal Church South.
In 1928, members of the Scott Street M.E. Church South and St. Luke M.E. Church South decided to merge under the name First M.E. Church South. Plans called for the construction of a new house of worship. In the meantime, St. Luke's building was sold to a Seventh Day Adventist congregation. The merger of the two congregations, however, proved unsuccessful.
In 1930, the former members of St. Luke M.E. petitioned the bishop for permission to re-establish the congregation. The bishop agreed to the petition in September of that year. The congregation purchased the old St. John Episcopal Church at the northeast corner of Scott Blvd. and 18th Street. The Reverend G.R. Tomlinson, a native of Covington, was appointed pastor.
In 1955, the congregation financed the renovation of their church building on Scott Street. Renovations included refurbished Sunday school classrooms, a new baptismal font and a remodeled kitchen.
Covington Journal June 8, 1872, p. 3; Daily Commonwealth, March 29, 1880, p. 1; Kentucky Post, September 11, 1928, p. 1, October 24, 1928, p. 1 and September 29, 1930, p. 1; St. Luke M.E. Local History File (KCPL).