Community History - Covington - Southside Baptist
Southside Baptist was initially a mission of First Baptist Church, Covington. Services were held in a building at the corner of 15th and Banklick Streets. Southside was established as an independent congregation on October 6, 1907. The members of the congregation unanimously elected the Reverend A. Logan Vickers as the first pastor.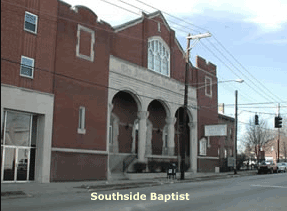 Charter Members
H.B. Adams Miss Minnie Zempter
David Kyle Mrs. Edward Poulson
Miss Vinnie Weatherford Mrs. Ogden
Mrs. W.H. Poulson Mrs. Clarence Cole
Mr. and Mrs. William Hampton Miss Alma Alexander
Miss Lucy Hampton Miss Hazel White
Miss Minnie Hampton Frank Taylor
Mr. and Mrs. Robert Hampton Miss Ada Taylor
Miss Clara Gray Miss Nora Taylor
Mrs. A.B. Harrod Mrs. E.L. Andrews
Thomas H. Willett Mrs. A. Logan Vickers
Mrs. Joseph Roth Mrs. John Dugan
Miss Ruth Beachley Mrs. Maggie Lucas
Lester Edmundson Mrs. Elizabeth Griess
Mr. and Mrs. L.C. Seward Mrs. Elizabeth Charbonneau
Mr. and Mrs. Alva Alexander Mrs. Dell Cunningham
Mrs. Mabel Jamerson
The congregation grew quickly, and in early 1908, the first deacons were ordained. On January 1, 1909, Reverend A. Logan Vickers passed away from pneumonia. Reverend Vickers was much beloved by the congregation and had accomplished much during his brief tenure as pastor of Southside. Despite this setback, a very successful revival was held that brought 80 new members into the church.
Southside continued to rely on neighboring congregations for financial assistance until 1915. At that time, the congregation became self-sufficient. This self-sufficiency led many members of the congregation to begin thinking about the construction of a new church and Sunday school building.
The first step toward the construction of a new church was taken in 1921. At that time, the congregation purchased the old Victoria Theater at the corner of 15th and Holman Streets as a site for a new building. In February of the following year, the congregation asked the city of Covington to give or sell them a piece of adjacent property. This property initially had been dedicated for use as a street, however, no street was ever built on the property.
With a suitable lot in hand, the congregation began raising funds. Architect A. W. Stewart of Cincinnati was hired to design the plans for a new $100,000 structure. The groundbreaking ceremonies were held on September 12, 1926 and the cornerstone was set into place on November 24 of the same year. The congregation hoped to occupy their new sanctuary in the spring of 1927.
By April 1927, however, the congregation had run out of funds. The new church was only half completed. A fundraising campaign was inaugurated under the direction of Charles Young. The goal of the campaign was to raise $50,000. The building was completed as funds allowed. The official dedication of the complex did not take place until May 14, 1939.
In the years following World War II, the congregation continued to flourish. In 1946 a parsonage was purchased at 1725 Jefferson Avenue in Covington. Four years later, the church auditorium was completed as was the second and third floors of the education building. Southside Baptist was a well-organized congregation with a beautiful and function complex of buildings by the time of the 50th anniversary in 1957.
Kentucky Post, September 28, 1907, p. 2, October 7, 1907, p. 2, January 2, 1909, p.3, February 16, 1922, p. 1, September 1, 1926, p. 1, September 13, 1926, p. 1 and April 11, 1927, p. 4; Colvin, E.A., 50th Anniversary 1907-1957, Southside Baptist Church.