Community History - Covington - St. Mark United Church of Christ (Evangelical)
St. Mark United Church of Christ, Evangelical & Reformed, is a Protestant Church located in the city of Latonia, KY. It was founded after its first pastor, Rev. William E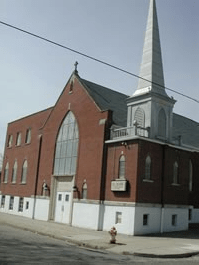 chelmeier, reported to the Evangelical Synod of North America that Latonia would be a good place for a church of his denomination. In March of 1907, the members held their first meetings in Bird's Hall, Latonia and in November of the same year they named themselves St. Mark's Evangelical Church. Soon afterwards, plans for the construction of a freestanding church began to form, and by August 16th 1908 the cornerstone was laid. The church was finally completed and dedicated on January 22, 1909 with Rev. Echelmeier as minister. The 30' x 40' structure was built at the cost of $5,500.
Rev. Echelmeier was replaced by John C. Klingenberger as the pastor of St. Mark's on July 8th, 1914. Only a few years later, Klingenberger resigned and was succeeded by A.C. Roth in the October of 1918. Roth was also to resign only one year later in May of 1919, however, though the tenures of both he and Klingenberger were very short, during their times a parsonage was constructed in 1916.
The string of short-lived pastors ended in 1919 when St. Mark's selected Frank C. Scholl as their pastor. During Scholl's tenure as pastor (1919-68) a great many changes took place at the church. In 1924, after having paid off the existing mortgages, a new Sunday School and meeting hall were added and dedicated on May 25th of the same year. The church was again remodeled in 1941 and later in 1956 an entirely new complex was constructed that contained a new sanctuary, an auditorium, and several additional educational and social facilities. This building was constructed at the cost of $130,000. Two years later, in 1958, the congregation celebrated its 50th Anniversary on May 28th.
While Rev. Scholl was pastor of St. Mark's, the church underwent several major changes in its denominational affiliation. Beginning in 1938, St. Mark's parent denomination, the Evangelical Synod of North America, merged with the German Reformed Church of the United States and became the Evangelical and Reformed Church (E. & R. for short). In 1957, the E. & R. Church again merged, but this time with the General Council of Congregational Churches and became the United Church of Christ. Appropriate name changes were made at St. Mark's and to this day it remains affiliated with the United Church of Christ.
Regardless of such changes, however, Rev. Scholl remained St. Mark's pastor and the church continued to operate as it had on a day-to-day basis, though on January 25th, 1967 it did host a service for the city's first Christian Unity Week. On March 8th, 1969, however, Rev. Scholl died after more than 49 years of service to St. Mark's and the church was left in a state of great sadness. Soon thereafter, on November 2 of the same year, Eugene Wetzel was appointed as Rev. Scholl's successor. During Wetzel's tenure as minister, the congregation constructed a steeple outside the church, completed in December of 1972, dedicated to the memory of Rev. Scholl whom they all respected greatly.
In March of 1978, Rev. Wetzel resigned as pastor of St. Mark's to take another ministerial position in Upper Sandusky, Ohio. It was not until March of the next year that St. Mark's finally appointed Wetzel's successor, George Muzny, as pastor of the church. Rev. Muzny's position became official on March 25th, 1979. Several years later, in 1983, St. Mark's celebrated its 75th Anniversary.
St. Mark United Church of Christ Church Publication History; Kentucky Times Star 6-27-57 p1-2, 2-10-58, 2-13-58 p1a, 11-9-56 p 8a; Kentucky Post 3-15-09 p2, 12-2-16 p3, 9-12-23 p1, 9-22-23 , 9-24-23 p1, 8-14-08 p7